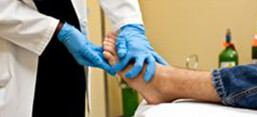 The Arch City Foot and Ankle and it's physician is a podiatric practice entrusted with the responsibility of providing patients with the best quality foot care tips.
This goal is accomplished by means of a fair,  comprehensive, and up to date clinical skills that guarantees the best foot care in Midwest.  We are a small practice, headed by Dr. Dennis Timko, who demands positive results for his patients.
We ensure equal opportunity for all employees and patients, balancing the rightful concern of society with the rights of individuals.
We strive to listen and communicate to our patients to allow them to understand their problem.  Our philosophy is to prevent foot deformities, diagnose and treat the foot and related disorders.  Dr. Timko is a conservative physician and provides surgical treatment as a last resort.
Dr. Timko has obtained a Missouri and Illinois license, and maintains the highest standards of professional conduct and expertise, so that consumers receive the best possible medical care at the best possible price.  Our philosophy focuses in on patient care and satisfaction.  And remember that we strive to keep America walking.  Listen to our new radio podcast with the best up to date information on foot care tips as well as baseball and health care reform.