Our diabetic therapeutic shoe program offers many different styles of Diabetic Shoes for men and women.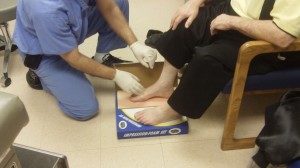 If you are on Medicare, have diabetes with poor circulation or peripheral neuropathy, and a foot deformity, you may qualify for diabetic therapeutic shoe program.  Some private pay insurances cover diabetic shoes as well.  If you are diabetic, schedule an appointment today for a diabetic foot evaluation and to discuss your Diabetic Shoe options and if you qualifiy for the diabetic therapeutic shoe program .
Important facts about the diabetic therapeutic shoe program:
Just because you are a diabetic, does not mean you can qualify for the shoes. You must have diabetes plus a foot deformity or pressure spot on your foot such as a pre-ulcerative callus
The program includes 1 pair of shoes per calender year with 3 pairs of heat molded or custom molded inserts.
The need for therapeutic shoes must be certified by a physician who is an M.D. or D.O. and who has the primary responsibility for treating the patient's systemic diabetes.
Document in the patient's medical record the presence of one or more of the following conditions: a. Previous amputation of the other foot, or part of either foot, or b. History of previous foot ulceration of either foot, or c. History of pre-ulcerative calluses of either foot, or diabetic peripheral neuropathy and evidence of callus formation of either foot, or e. Foot deformity of either foot, or f. Poor circulation (i.e., small or large vessel arterial insufficiency) in either foot.
A new certification statement, signed and dated by the treating physician, must be provided on a yearly basis in order to obtain a new pair of shoes or inserts.
We use drcomfort shoes as our main supplier for the diabetic therapeutic shoe program.
Accepted Insurance Plans
Health insurance plans in Missouri that Arch City Foot & Ankle are contracted to:
United Health Care
Blue Cross and Blue Shield
Anthem BCBS
Medicare
Medicaid
Railroad Medicare
Cigna
Aetna
GHP
Advantra
Mercy
Healthlink
Healthcare USA
Please contact the office if your insurance plan is not listed above.