Podcast: Play in new window | Download
Learn how to get your infant to walk sooner you must listen to this podcast. Learn from a podiatrist point of view on why infant walkers can deceive the average parent and are not a healthy choice for infant foot development and to get your little one walking sooner.
As a foot doctor/podiatrist and now father of a 11 month old boy, I have been more careful to acknowledge pediatric foot problems.  Luckily my son does not have any noticeable foot abnormalities, but I have learn something about infant walkers that I wanted to share with other parents.
Infant foot development can be delayed by infant walkers.  First reason is that they allow the infant to sit in the chair without allowing the infant to fully use their abdominal or lower back muscles for balance.  Those muscles are crucial in the development in walking and the gait cycle.  Studies have shown that these walkers can impair a child's motor and mental development. The second reason is that they are not safe and there has been an increase in infant walker accidents and even deaths.  The third reason is that they need their  eye sight to see there feet that will allow for better posture and foot-eye coordination and depth perception and an infant walker usually blocks the eyes from seeing the feet.  The fourth reason and most important one from a podiatrist stand point, is that most walkers are not short enough to allow the feet to be flat on the ground.  This will cause the infant to walk on the toes more causing an equinus foot shape and causing infant foot development to be changes and future foot deformities possible.  Equinus deformity can lead to toe walking, which can lead to many foot, ankle, knee, and lower back problems when the child gets older.
Bonus podcast information on why I feel that Western medicine is not as helpful as Eastern medicine such as Acupuncture, naturopathy, etc.  Hear about by recent experience with acupuncture by listening to this podcast.
Also if you are looking for another option for a baby walker and here's my suggestion for a way to give your back a break without hurting your child's developmental process on learning to walk.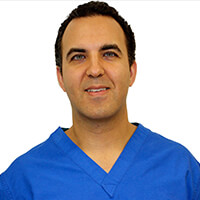 Dr. Dennis M. Timko
Podiatrist
Dr. Dennis Timko, is a podiatrist in the St. Louis, Eureka, MO. area. Dr. Timko specializes in diabetic foot care, foot surgery, AFOs, and orthotics. Dr. Timko is the solo owner of Arch City Foot & Ankle, which has been in business since 2003.